Lebanon Ford Performance has continued to redefine horsepower per dollar over and over again.  We earned the National spotlight with the creation of the
LFP 727 for $39,995
promotion that provided more horsepower per dollar than any muscle car, period. 
Our motto for 2018 is "Pick Your Power." The cars are faster with more horsepower and more performance than ever before. You asked, and we delivered. 
We are now proud to offer the new 2018 LFP Hellion.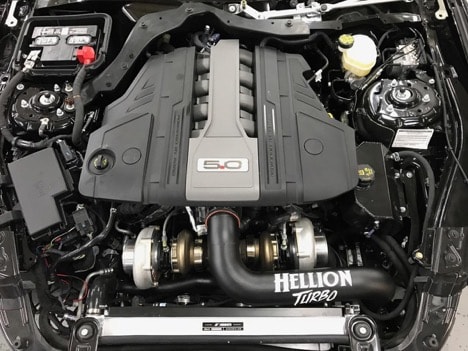 Lebanon Ford Performance is now building twin turbocharged Hellion 2018 Mustangs! The LFP Hellion, is 100% built in house and will start at $51,995. 
Due to overwhelming support by customers of our 2017 Package 2 Hellion System, for 2018 we are offering one system with all the upgrades needed to run safely and add more power and performance later. The LFP Hellion is an absolute rocket ship capable of putting down over 800hp at the crank on 7-8lbs of boost. On the lowest boost setting customers will see 660-700WHP depending on dyno and conditions.
The LFP Hellion Twin Turbo System has incredible capabilities and some truly impressive specs:
•   Twin 62mm Precision Built Turbos
•   Twin Precision 46mm Wastegates
•    Dual blow-off valves are standard
•   Large Vertical Flow Intercooler with the highest flow bar/plate available
•   Boost capabilities from 7psi to a whooping 30psi!!!
Did we mention it can generate north of 1,200 rear wheel horsepower with supporting additional modifications (i.e. E85, fuel system upgrades, etc.)?
The LFP Hellion Package Includes: (300A, Manual GT)
•    Hellion Turbo System with Twin 62mm Turbos
•    X-Pipe
•    1000cc Injectors
•    TSS Oil Pump Gears (Includes Oil Gear & Timing Gear & Crankshaft Bolt)
•    Driveshaft Shop 800HP Halfshafts
•    N-Gauge Tuning Device
•    Custom Tune via Addiction Motorsports
•    
All install labor and supplies
$51,995  -
(plus normal tax, titles, fees)
(optional vehicle shipping to customer not included)
Accepting Orders Now! Approximately 70 Mustangs in stock! Reach out today and make your next Mustang an LFP Hellion. Join the LFP Movement Today.
Visit our Web Page and fill out our contact form for more information or to order today!