"Best HP/$ value ever"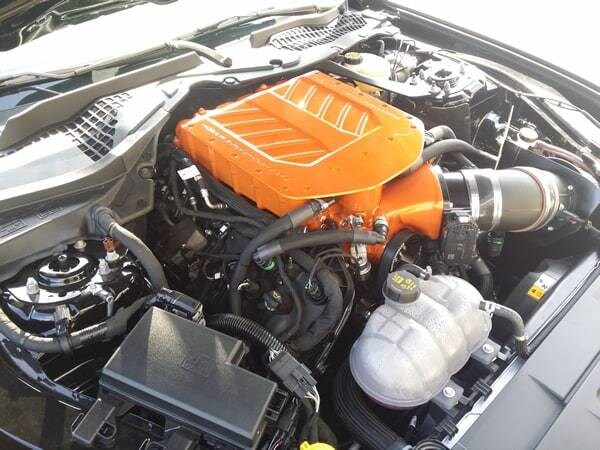 Our motto of
"Pick Your Power"
continues and Lebanon Ford Performance is proud to partner with Whipple Superchargers for our newest tire shredding, supercar killing Mustang; the LFP 800HP Mustang for the starting price of $39,995*, for a limited time.  This is not a misprint.  You are getting a brand new 2018 Mustang GT with a Whipple Stage 1 supercharger putting out an astonishing 800HP for $39,995* as part of the pre-order customers at LFP. The best part, we can do it all with $0 down, pending credit approval.  Recent tests done by Whipple on a 2018 Mustang GT with the new 10-Speed automatic netted an estimated 775 Crank HP. Thanks to several months of close collaboration, LFP and Whipple have developed a kit totally unique to Lebanon Ford, upping the HP number to 800+ at the crank. 800 is just the beginning… expect more HP as we see what this kit is truly capable of.
If you choose a vehicle in stock (i.e stock number 180123) your car will be ready in as little as 4-6 weeks as soon as the first Whipple units arrive at LFP. Custom ordered cars (Ie. Vehicles requested to be built through Ford) will be ready in around 12-16 weeks (after the Wipple superchargers arrive) and can be shipped to your driveway, anywhere in the continental United States.
Whipple Information 
New to the LFP brand is Whipple Superchargers, a company who is no stranger to huge power. Whipple is shaking things literally upside down with the introduction of their new inverted 3.0 liter supercharger. This design keeps the supercharger lower to the engine and keeps the air feeding into the engine much colder; thanks to a larger and more efficient dual pass intercooler and substantially upsized fittings. Included in the 2018 Mustang supercharger package is Whipple's Gen 5 3/4 rotor system boasting increased efficiency especially as RPM increases.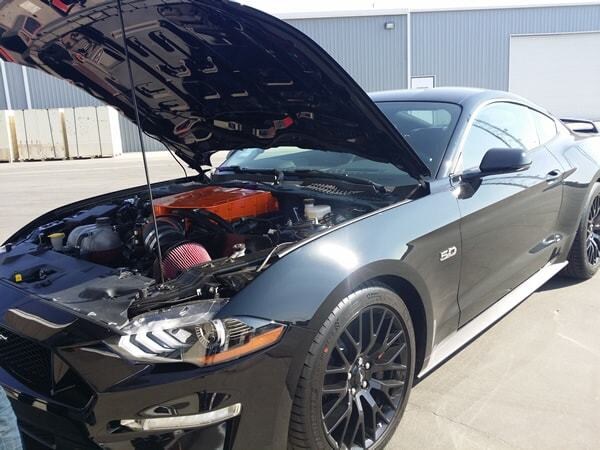 Tomahawk
Included in each supercharger kit is the Tomahawk, a handheld tuner developed by Whipple specifically for their supercharger systems. Unlike other aftermarket tuning software, Tomahawk was specifically designed to incorporate supercharger logic into its predictive strategy. This helps to all but eliminate common supercharger problems such as surging. The tool features the ability to data log, flash any module in the vehicle, and allows customers to edit things like tire/axle size as well as crank relearn and more. 
Tomahawk will allow you to connect to a cloud based server for tuning updates as well as diagnostic and tune revision support. 
Warranty
Customers want more power and more protection. While OEM manufacturers continue to produce amazing high performance cars, the ability to purchase 700+ hp cars from the manufacturer is a pricy venture. The fear of mechanical failure on a high HP modified car is often enough to scare away many buyers. Whipple has you covered via their optional 3-year, 36,000 mile limited supplemental power train warranty for the an addition $995. Contact a Lebanon Ford Performance Specialist for more information by calling 513-696-1822. 
Your Boosted Mustang Authority
Lebanon Ford Performance is the national authority on Boosted Mustangs. We have delivered hundreds of custom Mustangs all over the United States, because our dedicated performance staff eats, sleeps, and breathes Mustangs.  They will be there to assist you before, during, and after the sale. Quality and customer service are the name of our game.  Lebanon Ford Performance began the dealership offered supercharger movement and every one of our cars are hand built in house and come with their own unique certificate of authenticity and build number. 
Lebanon Ford Performance is no simple bolt it on dealership. We can cater to virtually any idea you have. Stripes, exhaust, custom paint, body kits, brakes, suspension, custom tuning, we do it all and more and we can even ship it to your front door. 
Turn it up to 11
We at Lebanon Ford Performance firmly believe in assisting our customers with creating their dream cars. We offer additional upgrades from full exhaust systems to body kits and everything in between. If you can dream it, we can build it. Most common upgrades include:
Exhausts
Suspensions
Oil Pump Gears
Halfshafts
Driveshafts
Tint
Stripes
Wheels/Tires
Spoilers
And MORE, MUCH MORE! 
Promotional Units
The first units sold may be subject to additional testing to refine the LFP/Whipple 800HP Supercharger kit.  Some owners may be contacted by Whipple or a Lebanon Ford Performance Specialist to gather feedback and help insure the best updates and innovative products are available to all customers.
This Partnership Is Just The Beginning
The new partnership between Lebanon Ford Performance and Whipple Superchargers has opened the door to a plethora of new parts & opportunities. Expect to see trucks, SUV's, and other makes/models rolling out of the LFP garage in the not so distant future. Give us a call at 513-696-1108 to go over all your options.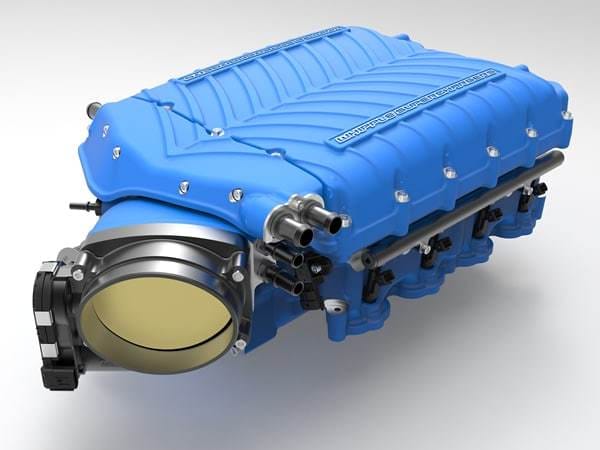 FAQ's -
Q.   Does the $39,995* price include the car?
A.   Yes!  The $39,995* price includes a NEW Mustang GT (300A package), Whipple Supercharger that produces 800HP!
Q.   What are the power numbers of the LFP 800 HP Mustang™ with Whipple Supercharger.
A.   800 HP at the crank.
Q.   Is there a warranty on the LFP 800 HP Mustang™
A.   An optional 3 year, 36,000 mile limited supplemental power train warranty is available directly from Whipple.
Q.   What is included with the LFP 800 HP Mustang™
A.   For the list price, you get a base 300A Mustang GT with a manual transmission, the Whipple Supercharger System, and the Tomahawk tuning device.
Q.   Is the LFP 800 HP Mustang™ emissions legal in all 50 states?
A.   The LFP 800 is currently "Carb Pending" which means it has passed all tests and will carry 50 state legal certification. We are waiting for our EO number to be processed. 
Q.   Can you ship to my City/State?
A.   Yes!  Fill out the form below and we can get you a shipping quote.
Q.  What comes standard on the GT?
A.  The 2018 GT comes with pretty amazing standard equipment including dual power seats, HID headlamps, SYNC Bluetooth technology, Reverse camera, and even Ford Track Apps. Please contact us for a complete list of standard features.
Q.  Can I add more options or equipment to the LFP 800 HP Mustang™
A.  The base GT is just the beginning, we can build your beast on a Premium as well and even go with an auto transmission if that's your style. Once we have your platform and power level determined, we can do anything from body kits, to wheel/tire combos, upgraded half shafts, adjustable suspensions, and much more. If you can imagine it, we can build it!
Q.  If I already have a Mustang can you turn it into a LFP Original?
A.  If you already have your car and don't need to purchase a new one, we can help you there as well. Let's build the one you have!
Q.  Can I finance my LFP 800 HP Mustang™?
A.  We are able to finance these builds with the vehicle! Although money down is recommended, it is not required! (Pending credit approval).  
Q.  What color does the Supercharger come in?
A.  The Whipple Supercharger comes in black standard.  We can powder coat in many colors for an additional charge.
*Limited time offer. $39,995 promotion not stackable or valid with any other discounts or offers. Contact Performance Specialist for full details.