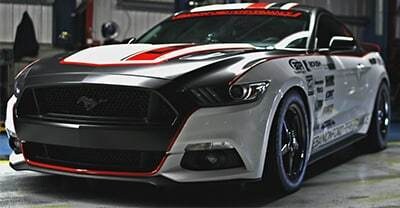 Lebanon Ford Performance is proud to introduce the LFP 10; our first purpose built street legal drag car. Expanding upon our already impressive performance lineup including the likes of the
727
for $39,995 GT and the insane
LFP Hellion
, we decided it was time to turn our attention to creating a complete package for those who live their lives ¼ mile at a time. Make no mistake; the LFP 10 is not merely about power per dollar. Hours of testing, R&D, and careful parts selection have made these cars into the fastest and most purpose built street legal cars ever offered by a ford dealership. 
The LFP 10 is capable of running consistent mid 10 second quarter mile times while putting down up to 700 wheel horsepower (850 Crank HP) on 93 octane fuel.  The LFP Team has left no area on these cars untouched. Our LFP 10's begin their life as a base GT with an automatic transmission. To put down some serious power, they receive a Roush Stage 2 supercharger with a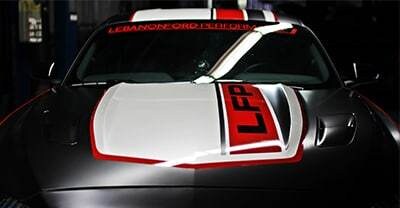 smaller upper pulley, higher flow air filter, and different idler pulley, all topped off with a custom tune. Fuel delivery is courtesy of an inline fuel pump voltage booster paired to ID1000 injectors. LFP has also taken the time to upgrade the oil pump, timing gears, and crank shaft bolt with a billet set from TSS. You can't make consistent runs without  keeping the engine cool so a VMP triple pass heat exchanger has been installed to increase cooling capacity. 
Power is great, but if you can't put it to the pavement, the competition will leave you spinning in their dust. The suspension on the LFP 10 has received a thorough upgrade including UPR billet vertical links, toe links, and bushings, Viking adjustable shocks, and BMR drag springs. Topped off with Racestar wheels and Mickey Thompson Tires, the LFP 10 will run from 0-60 at neck snapping speeds. Launches that hard often put a serious strain on the drive train. The LFP 10 comes with a substantially beefed up drive train which includes a 1 piece drive shaft and upgraded half shafts to ensure the driveline can endure the punishment.
While running fast times are important, getting kicked off the race track for lack of safety gear is no fun.  The LFP 10 was built to allow owners to compete every weekend. A 6 point bolt in roll bar has been installed along with a drive shaft safety loop to meet NHRA safety requirements. Customers asked and we listened, all LFP 10s will come standard with Baer Deep Stage front brakes to ensure the cars can stop reliably from 130+mph while also shedding over 60 pounds off the nose of the car.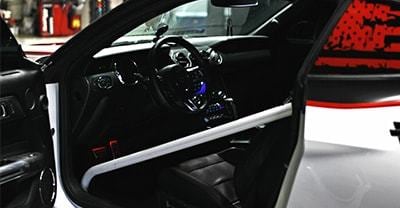 Our LFP 10 starts at $59,995 for a screaming American muscle car and will deliver consistent 10 second quarter mile times. The best part about the LFP 10 is that it is a dual purpose vehicle. Swap back on your factory wheels and cruise the boulevard in style or head to the beach blasting the A/C.  We are just getting started and let's see if your LFP 10 has a lot more in it. 
•
Roush Phase 2 Supercharger
•
Custom Tune and Handheld Tuner
•
TSS  Oil Pump Gears (Includes Oil Gear, Timing Gear, and Camshaft Bolt)
•
Roush Fuel Pump Voltage Booster
•
Race Star Wheels (17x5 front 17x10.5 rear)
•
Mickey Thompson 26x6.00/R17 Front Tires with 305/45/R17 ET Street R Rear Tires
•
Viking Adjustable Shocks
•
DSS Drive Shaft and Safety Loop
•
Roush Axle back Exhaust
•
UPR Billet Vertical Links, Toe Links, and Bushings
•
Baer Deep Stage Front Drag Brakes
•
VMP Triple Pass Heat Exhanger
•
Watson Racing Bolt in Roll Cage
•
300a Base GT with Automatic Transmission 
FAQ's
Q: Do you have a LFP 10 in stock that I can purchase today?
A: • All of our Performance builds are SOLD POST TITLE, meaning that you purchase the Mustang you want first (including color, trim level, body style, accessories, etc) and then we build your dream car. If you can imagine it, we can build it.
Q: It Says 10 Second Quarter Mile Times, What Can I Expect Mine To Do. 
A: • Exact quarter mile times depend on the driver, track, altitude, and environmental factors. We built these cars to run mid tens with a good driver on an average track with average weather conditions. You might run faster than a 10. If you live in a high humidity or high altitude area you may run a bit slower. The average seems to be around 10.5 seconds. 
Q: Can I get it in manual transmission?
A: Yes, you can definitely get it in manual transmission. Please note, it takes much more skill to drive a manual car vs an auto car. We cannot guarantee that your car will run 10's with a manual transmission.
Q: Can I bring my Mustang to Lebanon Ford Performance to have the LFP 10 Package installed?
A: Yes! You can bring your mustang in to get the LFP 10 Package installed! You can fill out a form on this page or call (513)-696-1108
Q: How does The LFP 10 affect the manufacturer's warranty?
A: LFP 10 will not carry any warranty from the manufacturer in the event of any power train failures caused by the installation or use of the Supercharger system or other components added to the car. There is no warranty by Lebanon Ford or the manufacturer after the installation of the system. All other warranties will remain intact.  
Q.   Does the $59,995 price include the car?
A.   Yes!  The $59,995 price includes a NEW Mustang GT (300A package) with an automatic transmission and your choice of non-premium colors. 
Q.   Can you ship to my City/State/Country?
A.   Yes!  Fill out the form below and we can get you a shipping quote.
Q.  What comes standard on the GT?
A.  The 2017 GT comes with pretty amazing standard equipment including dual power seats, HID headlamps, SYNC Bluetooth technology, Reverse camera, and even Ford Track Apps. Please contact us for a complete list of standard features.
Q.  Can I add more options or LFP equipment to the LFP 10? 
A.  The base GT is just the beginning, we can build your beast on a Premium as well and even go with more parts to get you more power if you are looking for even faster times. We can also add anything from body kits, to vinyl graphics, custom paint, and other aftermarket upgrades. If you can imagine it, we can build it!
Q.  Can I finance my LFP 10?
A.  We are able to finance these builds with the vehicle! Because of loan to value ratios, money down is highly recommended, but may not be required! (Pending credit approval).